Benefits of Exploring the Blissful Char Dham Yatra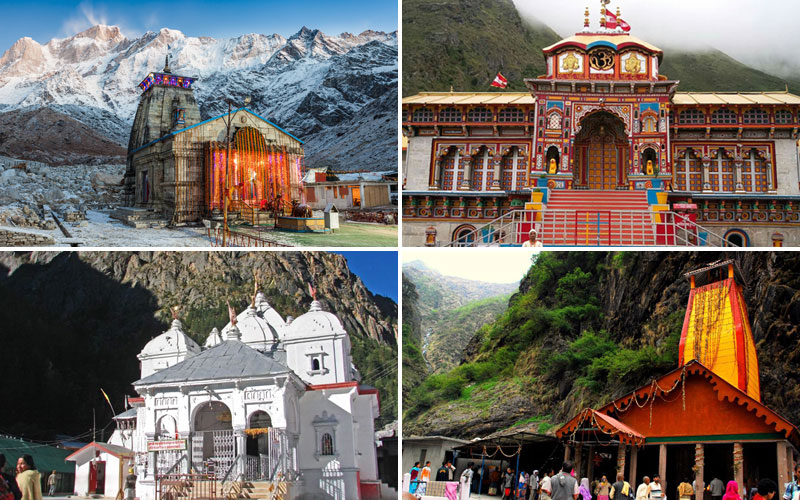 CHAR DHAM YATRA
THE MOST AUSPICIOUS AND SPIRITUAL PLACE
India is full of scenic tourist charms. In this country, spiritual beliefs, cultural values, and heritage wonders are some of the major reasons that influence the pilgrims to plan an expedition. The land of temples with plenty of sacred destinations, India is undoubtedly a paradise for the seekers of tranquility and spirituality.
According to this mythology, Shri Adi Shankaracharya acquired freedom from reincarnation in the Shri Badrinath Dham. The doorway to the Yatra is Yamunotri. The next destination is the renowned Gangotri shrine. Thereafter the pilgrim has to visit Shri Kedarnath Dham and finally Shri Badrinath Dham. After completing the Char Dham pilgrimage tour, the pilgrim achieves an absolute serenity of the mind.
ABOUT CHAR DHAM
Yamunotri Dham is a preferred pilgrimage destination for Hindus. Yamunotri- the source of the sacred Yamuna River. For this holy river, there is a mythological story among Hindus that the Yamuna was the sister of Yamraj and therefore on Bhai Dooj, Yamraj promised the Yamuna that whosoever will take a dip in the Yamuna River will not be taken to Yamlok and he would attain salvation
Gangotri Dham is Gomukh, which is the origin point of the Holy River Ganges. It is believed that after King Bhagirath meditated for a long time, the river Ganga came to earth. The stone on which King Bhagirath did his meditation is located near Ganga Temple in Gangotri. The Gangotri Dham is located at an altitude of 3200 meters in the middle of imposing surroundings along the bank of river Bhagirathi.
Shri Kedarnath Dham is a prominent pilgrimage for Hindus as it is one of the twelve jyotirlingas of Lord Shiva, the God of destruction. Kedarnath, Kalpeshwar, Tungnath, Madhmaheshwar, and Rudranath shrines are together known as Panch Kedar. Adi Shankaracharya restored the temple. Kedarnath Temple is named after the ruler of Satyuga 'Kedar'. The shrine is open from April end till Bhai Dooj.
Shri Badrinath Dham can be understood from the fact that it is considered the most sacred among the four shrines. The Dham is dedicated to Lord Vishnu, the protector, and preserver of the divine Hindu Trinity (Brahma, Vishnu, and Shiva). These sacred temples of Lord Vishnu are also known as Vishal Badri. This region has also witnessed Saint Adi Shankaracharya getting freedom from the process of reincarnation.
Benefits of Char Dham Yatra in 2022
Char Dham Yatra is the most rigorous pilgrimage place. As per Hindu mythology, one should visit Char Dham Yatra once in his lifetime. With the bliss of nature and the blessings of God visiting this place also requires physical strength. Out of these 4 Dhams the yatra has road access to 2 temples and the other 2 requires trekking for several hours.
If you are looking for a comfortable journey to cover Yamunotri, Gangotri, Kedarnath, and Badrinath you could choose Megamax Aviation services
Pros of Char Dham by helicopter 2022
After the natural calamity a few years back, helicopters have become a more popular choice when it comes to undertaking the Char Dham Yatra Tour. The entire pilgrimage could be completed in less time as you are picked and dropped very close to the temple sites. At a few destinations, it takes short journeys on motorable roads or a short trek
One can save a lot of time while traveling to Char Dham by helicopter, so it is the best option for those who have busy schedules and tedious jobs.
It is a covenant for old people and people with health issues. It requires great stamina to cover all four Dhams by road.
It would be a great adventure for people who enjoy heights. You'll feel like flying between the peaky snow-covered mountains.
Panoramic view of beautiful mountains. It's gonna be a feast for the eyes.
VIP Darshan facilities, cooks, and a supply of hot water are also available.
How to do Char Dham Yatra by Helicopter 2022
After reading this, if you are willing to consider doing Char Dham Yatra by Helicopter 2022, then we have something for you. Megamax Aviation provides you with multiple Char Dham Yatra Packages that help you in experiencing the spiritual peace of Char Dham Yatra peacefully and that too at affordable prices. They understand their customer's situations and thus they offer multiple packages. The best out of all their packages is the one that offers a stay of 4 nights and 5 days. This one is budget-friendly, you have a lot of time to explore each and every Dham, and helps you in making the best of your trip.
Why Choose Megamax Aviation for Char Dham Yatra by Helicopter in 2022?
Before choosing something for your spiritual journey, a person thinks and ponders over a lot of factors. Here are some of our top reasons or answers to all your questions that can pop up in your head before choosing Megamax Aviation –
They Guarantee 100% Customer Satisfaction
Their Helicopter services are absolutely safe and sound.
They make sure to be on time and always drop their passengers at the exact locations.
Their Char Dham Yatra by Helicopter in 2022 packages are pocket friendly and affordable.
They make your Char Dham Yatra peaceful and hassle-free.
If you are looking for the best Helicopter services for your next Char Dham Yatra Tour, then Megamax Aviation is the best choice for you!